In this guide, you will be able to learn how to connect your QuickBooks Online company to Square via Synder. Once you finish your settings, the app will start receiving your Square transactions and import data with all the details in QuickBooks. Follow easy steps in the helpful guide, and enjoy seamless synchronization. Connect your Square to Synder in 10 easy steps.
Step 1: Connect Your Square to QuickBooks Online
Whether you are setting up your account for the first time (photos #1, #2, #3) or adding another form of payment (start from the photo #4, then you will be redirected to #3) you can connect your Square account.
Step 2: Grant Permission
Please read the following and allow the app access your account information for correct synchronization with QuickBooks. The app has read only access to your data.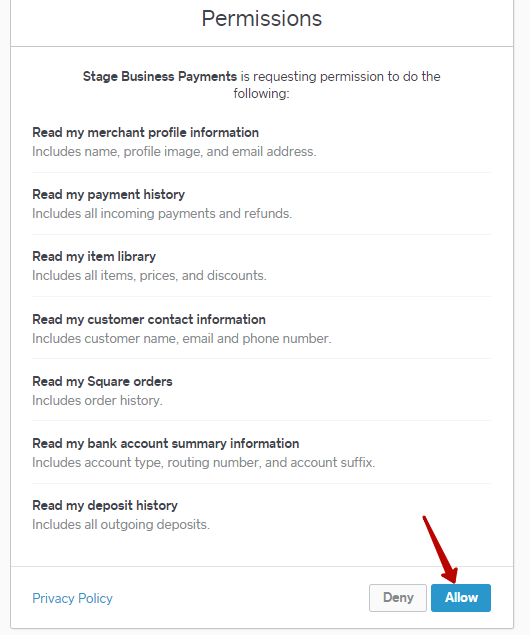 Step 3: Select Location
Please at this step select location associated with the payments you would like to sync to QuickBooks*. Click Next.
*In case you have several locations, you will be able to connect all of them adding Payment Platform and selecting another location on this step.

Step 4: Sales Settings
1. Please select Square Bank Account created by the app as a Bank account (it represents your Square in QuickBooks). This will customize where your transactions are going to be stored in QuickBooks.
2. Choose the payment method you prefer (most likely Square).

Step 5: Product Settings
This page will customize new products created during sync by our app, in case the item name or SKU are not found in your QuickBooks.
Note the app supports existing Inventory Products, however, it is not able to create new during the sync*. Check out more about products in this guide.
Please select product Type
Please select product Income Account
*You will be able to change the type of created product in QuickBooks after sync.

Step 6: Tax Settings
If you would like the app to account for taxes, switch this setting to ON, otherwise leave it OFF. Check out more about taxes for US companies without ATS or Non-US companies in this guide.

Step 7: Fees Settings
1. Please select the Vendor name for fees to be accounted for (most likely Square).
2. Choose the Name of Category you would like Square fees to be assigned to.
3. Make sure the Bank Account field match to the one you selected for Sales tab (Square Bank Account is the best option), otherwise fees will not be accounted for properly.
Step 8: Payout Settings
Having Payout setting enabled allows to record transfers from 1. Square Bank Account to your 2. QuickBooks checking account, making reconciliation process easier.
*Note: It will not double the income recorded to your bank.
*Disclaimer: we strongly suggest to only use your actual checking account for recording payouts. Use a Square Bank Account for synchronizing Square sales and fees.
Step 9: General Settings
1. Having Synchronize Automatically settings enabled allows the app to record all the Square transactions from the moment you set up the app onwards. Check this guide to learn how you can import historic transactions.
2. Enable this setting to make sure that our app will never sync one transaction twice.
Note: if you used another system for sync or entered transactions manually, there is no guarantee the app will track that, so the best way would be to double check them manually.
3. In case your invoices are in QuickBooks already and you want payments to be applied to them, enable this setting, otherwise, the app will create Sales Receipts.

Step 10: Starting Synchronization
Clicking "Stat to Sync" button will just redirect you to the page, where you will be able to select several transactions and make some test synchronizations. Go ahead and try the app that will make your life easier!

Congratulations! Your account is set and ready to import and sync.

Was this article helpful?