Overview:
1. Manual sync
2. Autosync
3. Rollback syncs
4. Archive and Unarchive transactions
5. Check Sync Details
6. Preview
There are 2 ways of syncing transactions with your QuickBooks account: manual and automatic.
Manual sync
Manually you can import as many old transactions from the payment system as needed (the time range of how far back you can go is unlimited). To do that:
Go to Import Old Transactions tab on the left
Select time range needed
Click Import
You will find all the imported transactions under Transactions tab in the app in several minutes. After the transactions are imported from your Stripe/Square/PayPal to the app (note your sync balance will remain untouched), you can sync them to QuickBooks (this will make amount of syncs go down).
Select transactions needed (our filter is available to filter out the ones you need to sync) and click Sync under the Batch Actions menu.
In order to mark all transactions per page use top selector (1), you can also change the amount of transactions are showed per page (2). After all the transactions on the page are marked the option to "Select all transactions on all pages" (3) will appear.
You will see the amount of the selected transactions in the "Txn selected" field.

(the result in your QuickBooks after synchronizing the transaction using Synder)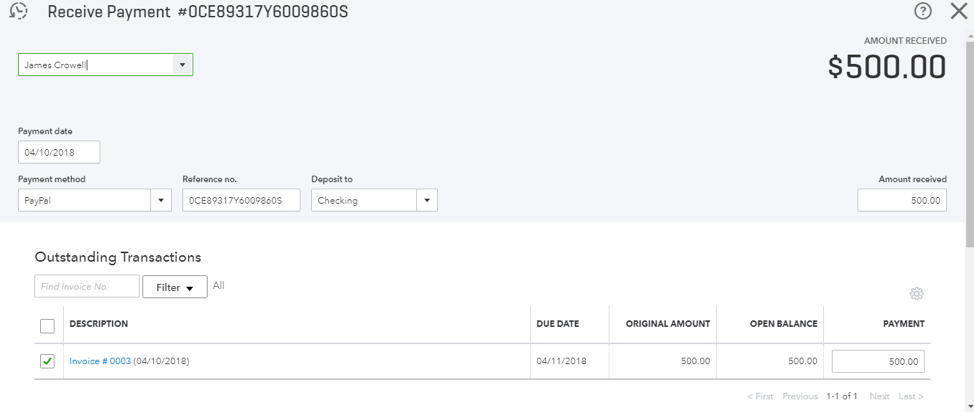 Autosync
Enable auto-sync in your General settings on the top right, clicking gear icon.

If enabled, transactions coming in after you have enabled the auto-sync configuration will reflect your QuickBooks Company automatically without your confirmation.
NB!: transactions that have been manually imported into the app will not be auto-synced.
Rollback Function
If you need to undo the syncing, you can easily and quickly Rollback any Sync. Rollback erases transaction from your QuickBooks, causing no damage to your QuickBooks data. Please note, roll back will not reinstate the amount of the available syncs on your account.
To rollback several transactions, please go to the Transactions tab (left hand side) and select transactions you would like to roll back. Then hit Batch Actions and Roll Back.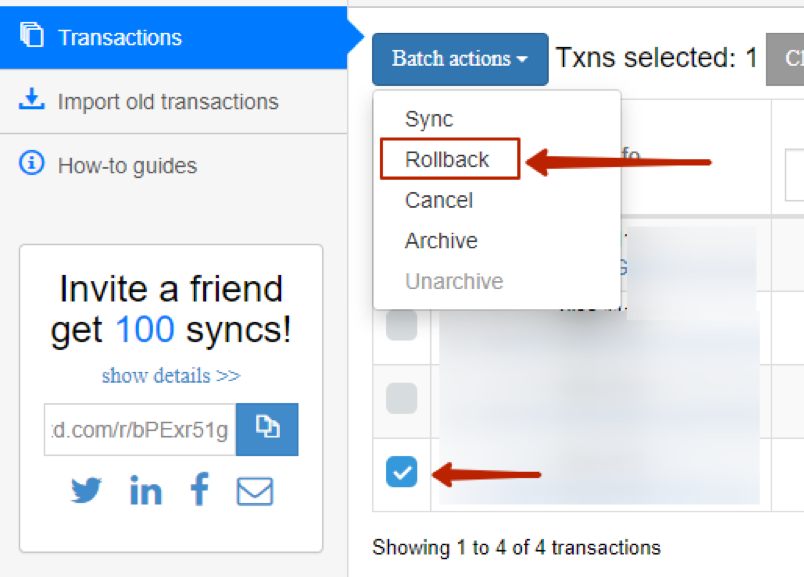 Archive/Unarchive Function
In order to prevent mess in transaction list, you can use Archive feature.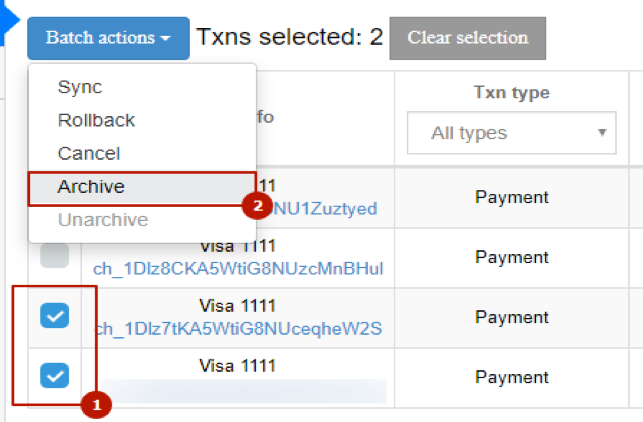 Archived transactions are presented in a separate list. Mark corresponding checkbox to see them.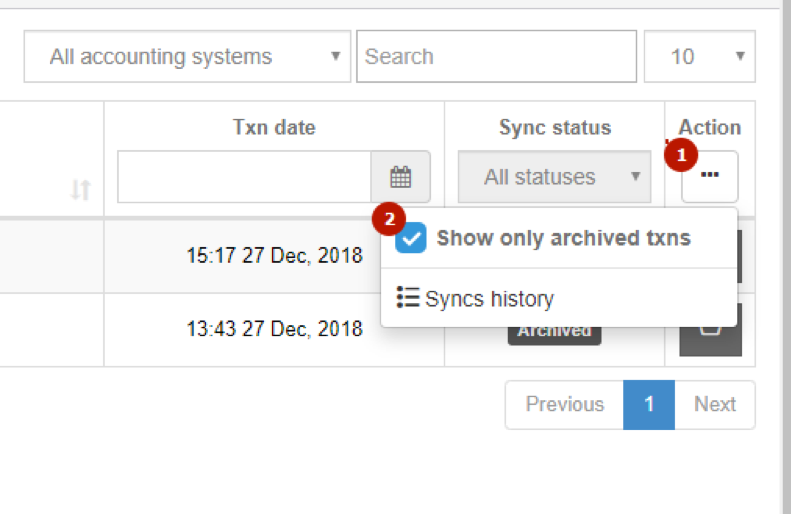 In order to sync archived records, please add transactions again to the Transactions list. To do so mark the needed ones and click Unarchive button.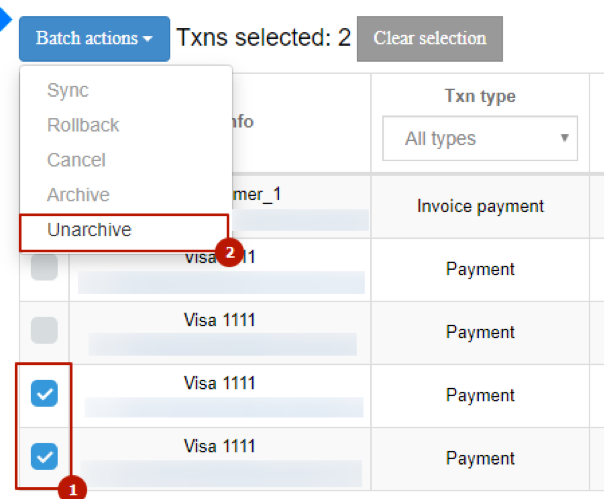 Preview
Click Preview option in the drop down to see how the transaction will look on your QUickBooks end after synchronization.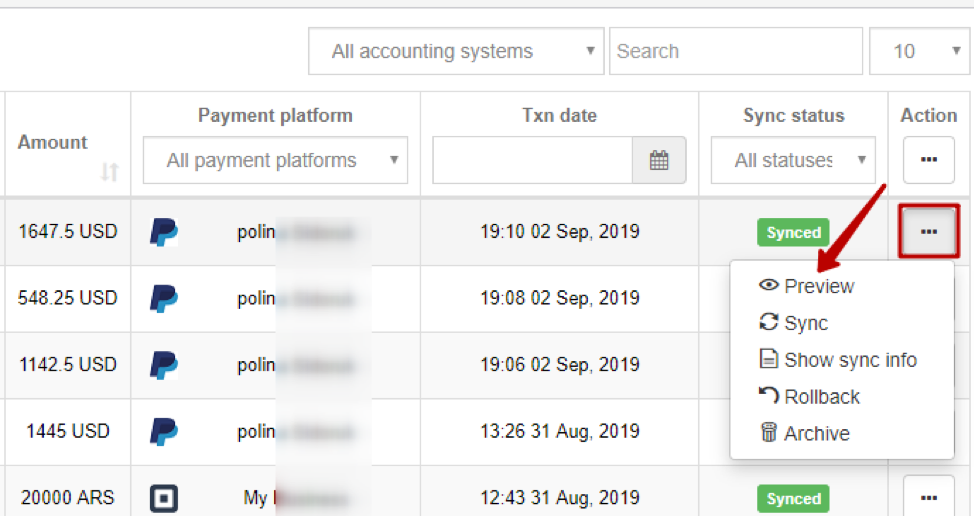 Check Sync Details
In order to check details of the synchronization and see what was created in your QuickBooks by the app, please click the green Synced status (1) or select Show Sync Info in the drop down (2).

You will be able to open initial transaction from your Stripe/PayPal/Square using Txn ID link.
"Show in QB" links will open entity created on your QuickBooks end.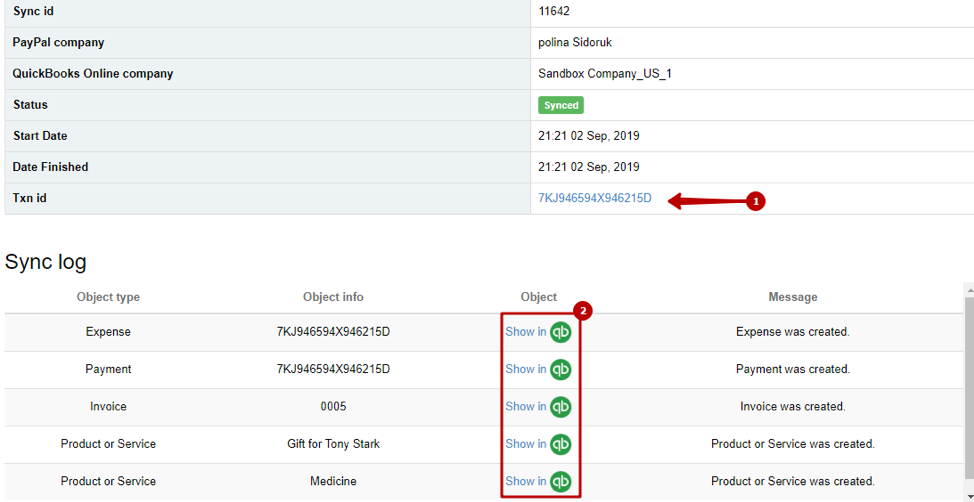 Do you have any questions? We would love to hear from you. Contact us via our in-app chat to start a conversation or send an email to the address specified in the footer of this page.
Was this article helpful?